Colour Your World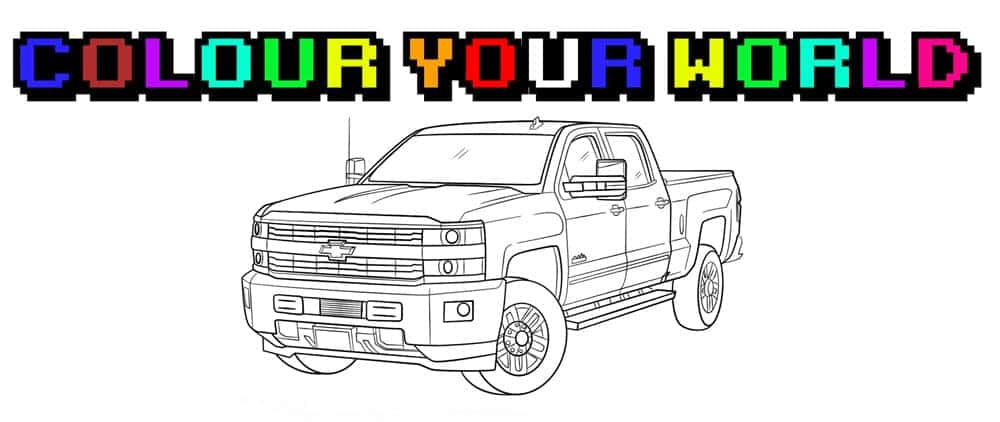 Did you know?
Crayola was introduced in 1903 by two cousins. They cost a nickel and a box contained 8 colours: black, brown, blue, red, purple, orange, yellow and green. With those 8 colours we were given the opportunity to create and color how they saw things.
Today we have 120 colouring crayons to pick from allowing even more personalized opportunities to colour your world how you see it.
Contest Time!
We invite you to join us in celebrating NATIONAL CRAYON DAY on MARCH 31 by Colouring our Chevy truck picture using all the colours you see bring it to life. Enjoy the colours and the fun as you see them appear on the page.
Rules are Simple:
Pick your age group and Print – The page should be printed on a standard 8.5 x 11″ paper.  You can also pick up a copy at Ron Hodgson Chev
1 Entry per artist will be accepted
Drop Off/Mail In: Your Artistic Masterpiece will need to be in our hands by March 27, 2020
The Hodge staff will have an employee vote for their favorites in each age group
For privacy protection: all personal information will be cut off and an art number will be given to each masterpiece
*Click on the 3-5, 6-8, 9-11, 12-14, 15-17 below to download
Age Group: 3 to 5  Prize : $25.00 Mastermind Gift Card
Age Group: 6 to 8  Prize : $25.00 Mastermind Gift Card
Age Group: 9 to 11 Prize : $35.00 Mastermind Gift Card
Age Group: 12 to 14 Prize : $50.00 Happy Teen Gift Card
Age Group: 15 to 17 Prize : $100.00 Happy Teen Gift Card
All winning artists colouring pages will be announced and shared on March 31st, 2020 via @ronhodgsonchev Instagram and @ronhodgsonchev Facebook.
Have fun choosing those colours that brighten up your day !