Comparison Showdown: 2023 GMC Hummer EV vs. Top Competitors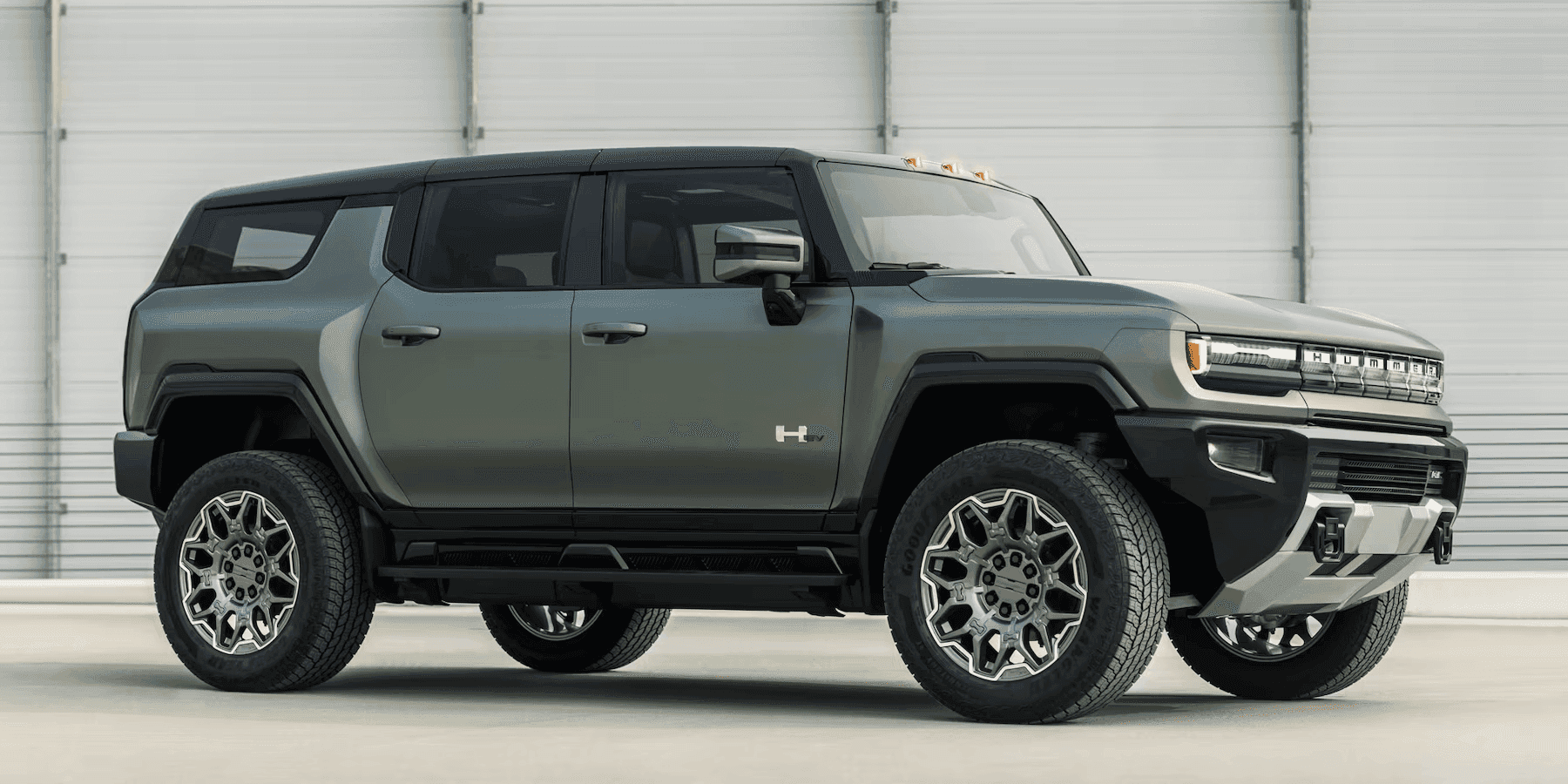 Times are changing, with electric vehicles becoming more common every day. But when it comes to who's leading the pack in luxury, power, and perhaps most importantly, sustainability, there's no surprise that the GMC Hummer EV is at the front, leading many buyers to wonder how it compares to other electric trucks in the market.
To make it easier to see the differences between these top-of-the-line electric trucks, we've created this comparison guide for you. Here, we'll be looking at the GMC Hummer EV against three of its major competitors: the Tesla Cybertruck, the Rivian R1T, and the Ford F-150 Lightening.
The Electric Truck Showdown: A Head-To-Head Comparison
Power and Performance
GMC Hummer EV
When it comes to power and performance, the Hummer EV boasts a remarkable 625 horsepower and over 7,400 pound feet of torque, thanks to its three electric motors. This brute force accelerates the Hummer EV from 0 to 97 km/hr in just 3.5 seconds, making it one of the fastest electric trucks on the market.
The top of the trim Hummer EV Edition 1 takes electric to a buzzing next level with an astonishing 1,000 horsepower and over 11,500 pound feet of torque. The Hummer EV's powertrain isn't just about straight-line speed; it also offers exceptional off-the-line torque, which makes it ideal for those who enjoy off-roading and towing.
Tesla Cybertruck
While specifications for the upcoming Tesla Cybertruck have yet to be released, the initial concept promised impressive numbers. The Cybertruck promises a 0-97 km/hr time of less than 2.9 seconds for the Tri-Motor variant. However, everything remains speculative until official details are released.
Tesla's reputation for Ludicrous Mode and electric vehicle acceleration is well-established, and it's safe to assume that the Cybertruck will offer a thrilling driving experience. 
Rivian R1T
The Rivian R1T is known for its off-road prowess and impressive performance. While this electric truck accelerates from 0-97 km/hr in three seconds, it's lacking in horsepower when compared to the GMC Hummer EV at just 835 horsepower and 908 pound feet of torque.
Rivian's electric powertrain is engineered to deliver a combination of speed and agility that rivals high-performance gasoline-powered trucks. The instant torque from its electric motors provides quick acceleration, making it well-suited for both on-road and off-road adventures.
Ford F-150 Lightning
Ford's iconic F-150 gets an electric transformation with the Lightning. With up to 563 horsepower and over 775 pound feet of torque, Ford reasserts its reputation for power. The Lightning aims to provide a practical and versatile electric truck option, and while it's acceleration is slightly slower than its competitors, the Lightning rings true to it its name, going from 0-97 km/hr  in just a mere 3.8 seconds. 
Off-Roading Capabilities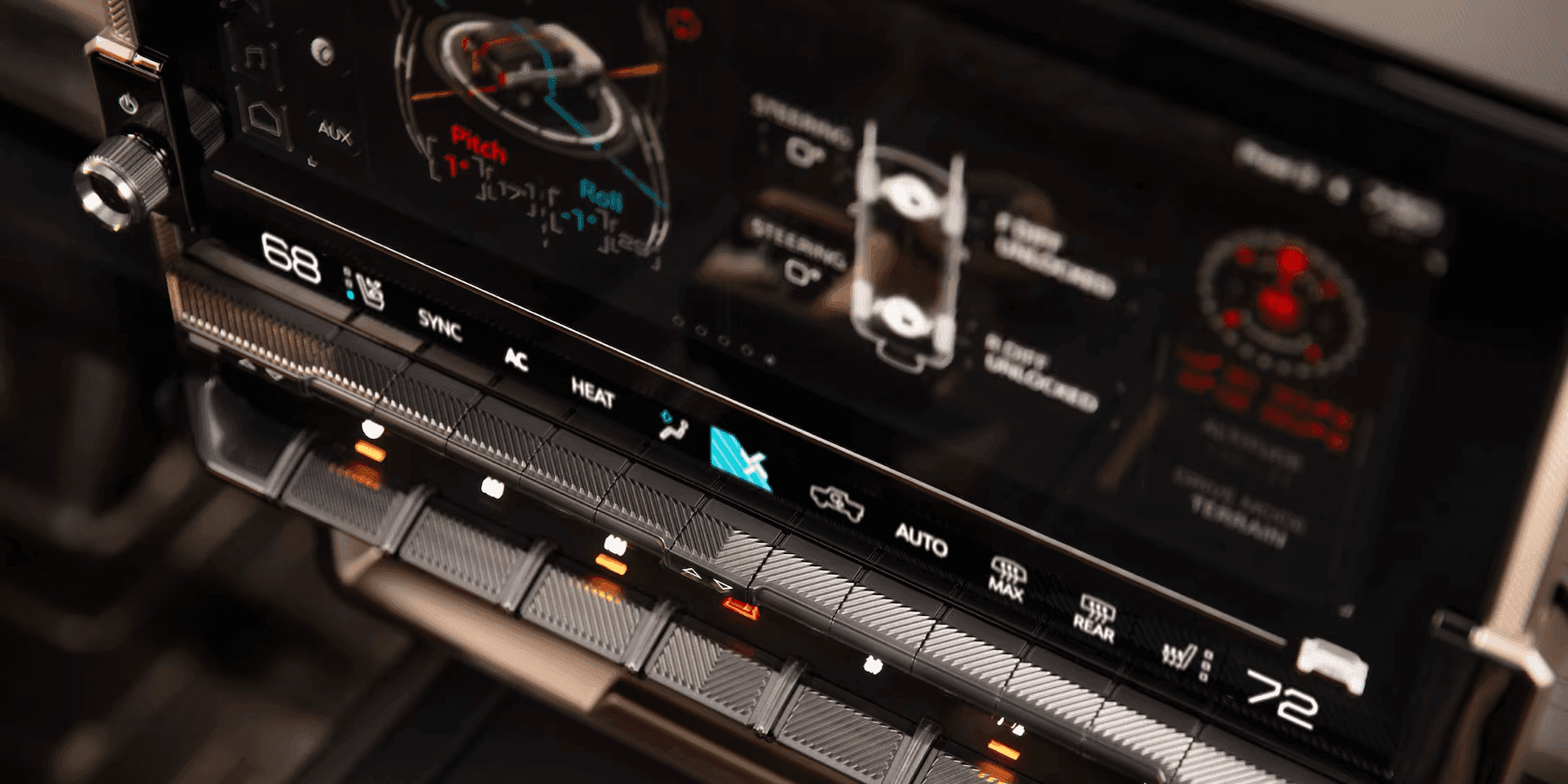 GMC Hummer EV
The GMC Hummer EV takes a new approach to going off-beaten path by introducing three new innovative features. CrabWalk mode enables the Hummer EV to move diagonally, allowing for precise maneuvering in tight spots, on rocky terrain, or wherever the road takes you.
Other features include the Adaptive Air Suspension, which can raise the vehicle up to 15 cm, as well as Extract Mode, which lifts the suspension to help you navigate tough obstacles.
Tesla Cybertruck
Tesla has been teasing the Cybertruck as a tough vehicle that gloats durability with its utilitarian design. Some of the specs being released by Telsa add merit to its claim. The Cybertruck will have a towing capacity of over 6,350 kg, allowing it to perform in almost any extreme situation. 
With over 1,500 pounds of payload capacity and adjustable air suspension, Cybertruck is the most powerful tool Telsa has built. Additionally, the Cybertruck is engineered with 2.83 cubic feet of exterior lockable storage, including a magic tonneau cover that is strong enough to stand on.
Rivian R1T
The Rivian R1T is designed with adventure in mind. It features a quad-motor setup, excellent ground clearance, and a host of off-road modes to tackle various terrains, making it a strong choice for outdoor enthusiasts.
Rivian's commitment to off-road capability is evident in the R1T's design and engineering. It boasts impressive approach and departure angles and the ability to wade through water. The combination of power, agility, and off-road-focused features makes the R1T the ideal off-roader.
Ford F-150 Lightning
Off-roading and Fords simply go together. The F-150 Lightning offers drivers 775 pound-feet of nearly instant torque. With four ready-to-go drive modes, including a tow haul and off-road setting, there is no question that Ford's fastest accelerating pickup has all the means to tackle any off-road adventure. 
Ford's state-of-the-art lithium-ion battery pack is surrounded by a rugged exostructure that protects it from elements both and off the road. 
Range and Charging
GMC Hummer EV
The Hummer EV isn't just about power and capability; it also excels in terms of range and charging speed. It offers impressive ranges of up to 529 miles on a single charge, thanks to its large 200 kWh Ultium battery pack. Additionally, the Hummer EV supports DC fast charging, with the ability to gain up to 160 km of range in just 12 minutes of charging.
The combination of a massive battery pack and efficient electric motors ensures that you can go the distance without constantly searching for charging stations.
Tesla Cybertruck
The Cybertruck is teasing to set a new standard when it comes to all-electric efficiency. The powerful drivetrain inside the Cybertruck is expected to have up to 800+ km of range, although more details have not been released yet.
Tesla's Supercharger network also provides convenient and fast charging options, ensuring that
Tesla owners can recharge quickly and easily on long journeys.
Rivian R1T
Rivian offers the R1T with three battery pack options. Buyers can choose from a standard, large, or max pack. Depending on which pack you choose, the range varies from 418 km to 643 km. With the large pack and four motors option, the R1T can travel an EPA-estimated 527 km on a single charge. 
Rivian's extensive network of Adventure Network chargers is designed to make long-distance travel in the R1T hassle-free. These chargers are strategically placed in scenic and adventure-friendly locations, ideal for those who love an off-road experience.
Ford F-150 Lightning
Ford offers both a standard and extended-range battery to feed the F-150 Lightning's motors. The standard range battery has 98 kWh of usable capacity, which will be good for 370 km of range. 
Buyers with a little more cash to throw will be able to get the extended-range battery with a massive 131 kWh of usable capacity. When equipped, the F-150 Lightning will offer 514 km of range, or 482 km if you go for the top-trim Platinum edition.
Interior and Technology
GMC Hummer EV
The Hummer EV interior exemplifies luxury and a tech-forward cabin. With a large 34 cm infotainment screen, a 31 cm driver information display, and premium materials throughout. The 2023 Hummer EV also includes Super Cruise, GM's advanced driver-assistance system that offers hands-free driving on compatible highways.
From its customizable digital displays to its premium leather seating surfaces, GMC paid attention to every detail meticulously. The large infotainment screen provides intuitive access to navigation, entertainment, and vehicle settings while maintaining a sleek and futuristic look.
Tesla Cybertruck
Tesla vehicles are known for minimalist interiors and large touchscreen displays. The Cybertruck is likely to feature Tesla's Autopilot and Full Self-Driving technology, which offers advanced driver-assistance features.
Tesla's Cybetruck will be able to comfortably seat six occupants with additional storage under the second-row seats. The Cybertrucks also comes equipped with an advanced 43 xm touchscreen with all-new customized user interface. 
Rivian R1T
The Rivian R1T comes with a pair of screens in the front row seating, the first being a 31 cm digital gauge cluster and the second a 39.5 cm touchscreen infotainment display. One quirk of the Rivian R1T is that it doesn't come with Android Auto and Apple CarPlay, but Bluetooth and navigation are standard. 
The tech doesn't stop with screens. Rivian makes up for a lack of features by adding removable features in their truck. Mounted in the driver's door is a rechargeable LED flashlight and a removable Bluetooth speaker with a built-in lantern under the center console.
Ford F-150 Lightning
Ford comes in with a colossal 15.5-inch touchscreen in addition to a 39 cm fully digital instrument cluster. Apple CarPlay and Android Auto both come standard, and the system is capable of over-the-air software updates to limit unnecessary trips to the dealership.
Ford's approach to the F-150 Lightning's interior centers on familiarity and ease of use. Now smarter than ever, the F-150 has Co-Pilot 360 technology to help you look for what surrounds you, no matter if you're towing, changing lanes, or finding a place to park. 
Unique Features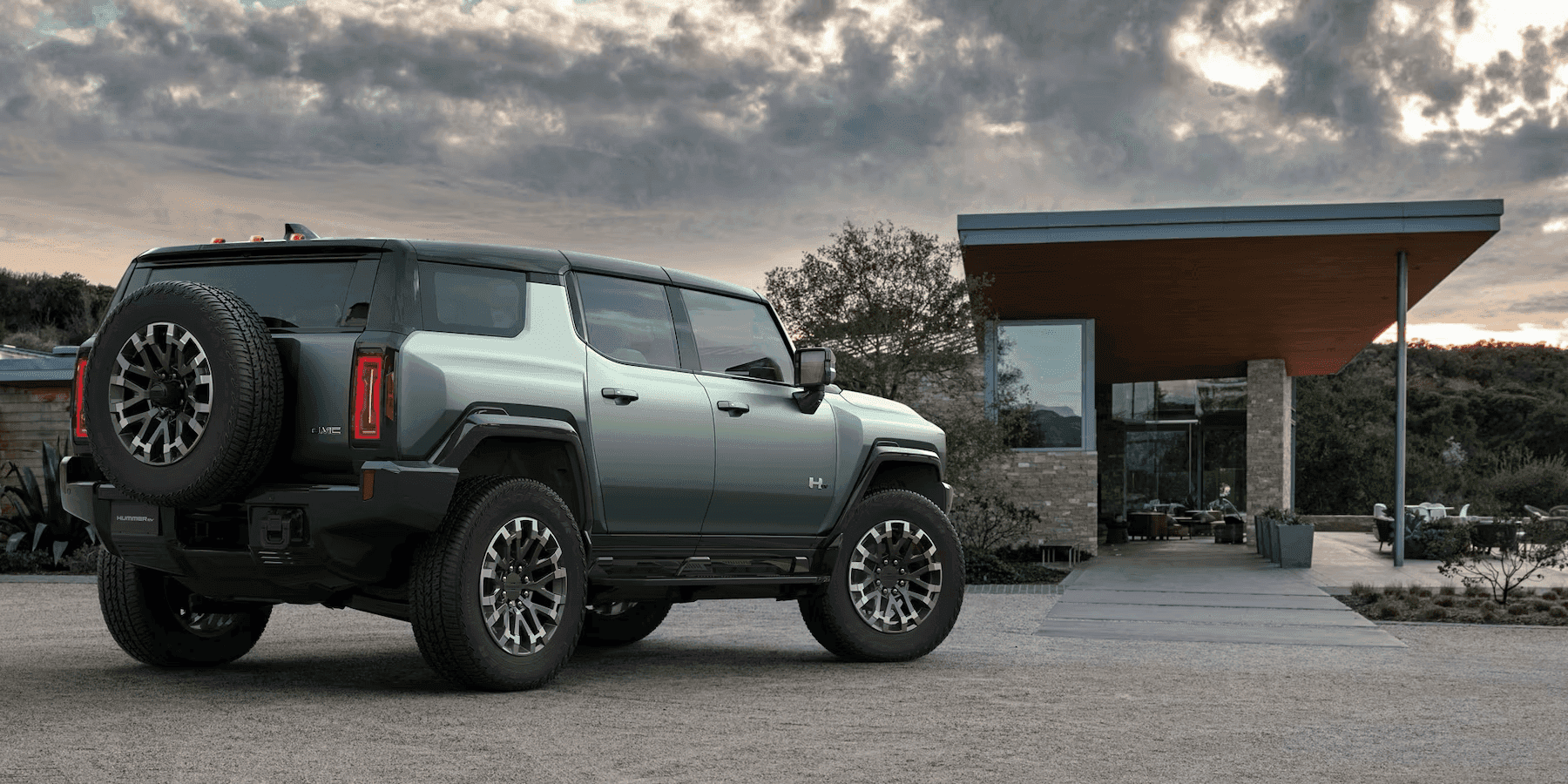 GMC Hummer EV
The Hummer EV comes with plenty of unique features that set it apart from its contenders. It includes removable roof panels, allowing for an open-air driving experience, as well as a power frunk (front trunk) for additional cargo storage. Furthermore, its optional Infinity Roof with transparent sky panels lets in plenty of natural light—day or night.
Tesla Cybertruck
The Cybertruck's unique feature is its stainless steel exoskeleton, which adds durability and a distinctive and futuristic appearance. Another unique feature is the amount of cargo and storage space that's built in. With 2.832 cubic metres of extra exterior, lockable space located in the under-bed, frunk, and sail pillars, the Cybertruck is a spacious option.
Rivian R1T
Rivian includes three unique features that are geared toward adventurers. A new gear tunnel runs the width of the truck's body, providing secure and weatherproof storage for various gears and equipment. In addition, all Rivian's come with a Kneel and Camp modes. Kneel mode lowers the R1T height to 25.4 cm for easier ingress and egress. Camp mode auto-levels the suspension, so if you're parked on uneven ground, it sets the cabin to a low-power mode to minimize power draw.
Ford F-150 Lightning
The Ford F-150 really emphasizes the idea of power on the road, with a whopping 11 outlets sprinkled throughout the entire vehicle and even a built-in power generator. Whether you need power for work or play, Ford can easily power all your devices. Additionally, the F-150 has a 4G LTE Wi-Fi hotspot as well. 
Final Thoughts On The Head-To-Head Comparison
In the rapidly evolving world of electric trucks, there are many contenders who will continuously go head to head. While the competition is fierce, with vehicles like the Tesla Cybertruck, Rivian R1T, Ford F-150 Lightning, and others vying for attention, the Hummer EV clearly stands out among the rest. 
With its impressive power figures, off-road innovations, extended range, and luxurious interior, the Hummer EV appeals to a wide range of drivers from adventure seekers to tech enthusiasts. While the choice between these electric trucks ultimately depends on individual preferences and needs, if you are looking for a luxury electric truck that doesn't compromise on style, power, presence, or sustainability, look no further than the 2023 GMC Hummer EV. 
Experience The 2023 GMC Hummer EV With Ron Hodgson GMC
The 2023 GMC Hummer EV combines luxury, presence, power, and reliability all in one advanced electric truck. It offers everything you need and want, from a new lavish interior to innovative off-roading features, all with the reliability you'd expect from GMC. 
At Ron Hodgson Buick GMC, our top priority is ensuring our customers have a dealership experience like no other. We understand purchasing a new vehicle encompasses a lot. We want to ensure you purchase the best vehicle for your unique needs, not just one that's flashy and new. 
Our experienced, knowledgeable staff has years of experience helping our customers find the right vehicle for them. Whether you have questions about the features of the 2023 GMC Hummer EV or are ready to jump in the driver's seat and go for a test drive, we're here to help. 
If you're ready to join the electric surge, give us a call at (780) 458-7100 or drop into our Edmonton dealership to find the right vehicle for you.