A Legend Reborn: The Evolution of the 2023 Hummer EV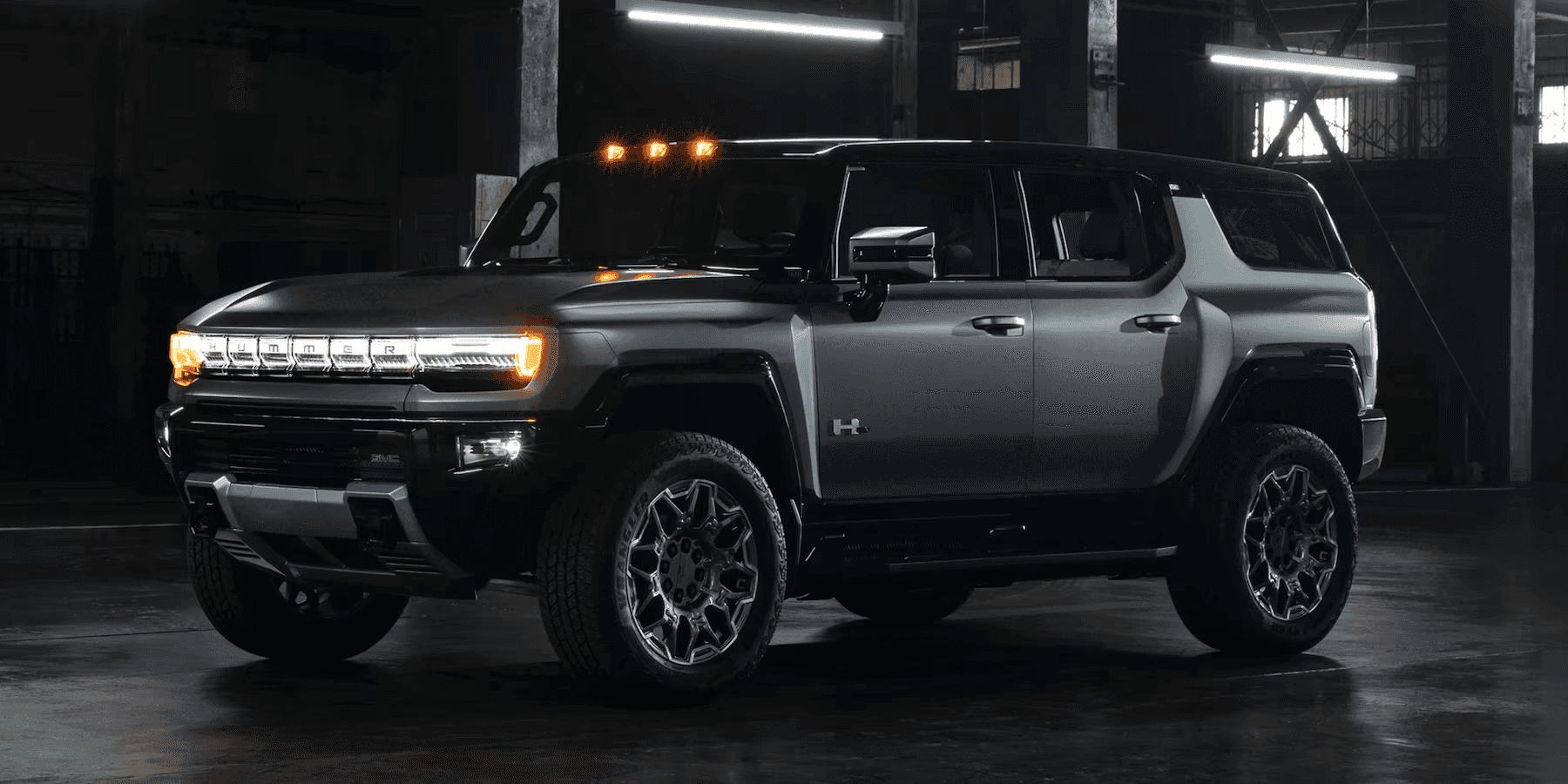 The roads are witnessing a big change, and we mean that in more ways than one. With the new surge of electric vehicles comes the behemoth that is the 2023 GMC Hummer EV. Hummers have always been a symbol of status and presence on the road, but now GMC is evolving what an electric pickup can be. 
The new 2023 Hummer EVs are a step up from last year's models and in this article, we will delve into all the major features of the 2023 Hummer EV, exploring its design, performance, technology, and sustainability aspects.
What's New With The 2023 Hummer EV?
Making its second appearance on the market, the GMC Hummer EV pickup is flaunting a multitude of new upgrades. One major expansion was with the exterior colours. This is a significant evolution when compared to the singular colour its Edition 1 model came in. Also new this year, the Hummer EV3 will now become the top trim level over the Edition 1. The EV3 now gives buyers the option of coming fully loaded. It can come with or without the removable roof panels and some of the Edition's 1 standard off-roading equipment.
Power and Performance
The powertrain that is packed into the Hummer EV is a powerful setup with three electric motors that combine to give it 1,000 horsepower. The 2023 Hummer EV could easily lap the competition as it rockets from 0 to 60 in 3.3 seconds thanks to its Watts to Freedom launch control driving mode. But don't think it ends there. Situated with all-wheel drive, the 2023 EV can also tow a respectable 7,100 pounds. 
Other key specifications include:
An all-electric powertrain produces up to 1,000 horsepower and 11,500 lb-ft of torque.

Acceleration from 0 to 60 mph in just 3 seconds, making it one of the quickest electric trucks on the market.

An available Watts to Freedom mode that unlocks maximum power for exhilarating acceleration.

Four-wheel steering for improved maneuverability, especially in tight spaces.
Design and Exterior
The 2023 Hummer EV is a statement of bold design and classic elegance. It incorporates Hummer's signature elements, such as the distinctive seven-slot grille, vertical LED headlights, and, of course, a massive Hummer logo on the front. The Hummer EV is available in two trims for the 2023 lineup, which include the EV3X and the Edition 1. The 2023 Hummer EV comes in seven exterior colours.
Key design features include:
A detachable roof panel for an open-air driving experience.

Aggressive fender flares to accommodate larger off-road tires.

Standard 20-inch wheels with optional 22-inch wheels for enhanced style.
Off-Roading Capabilities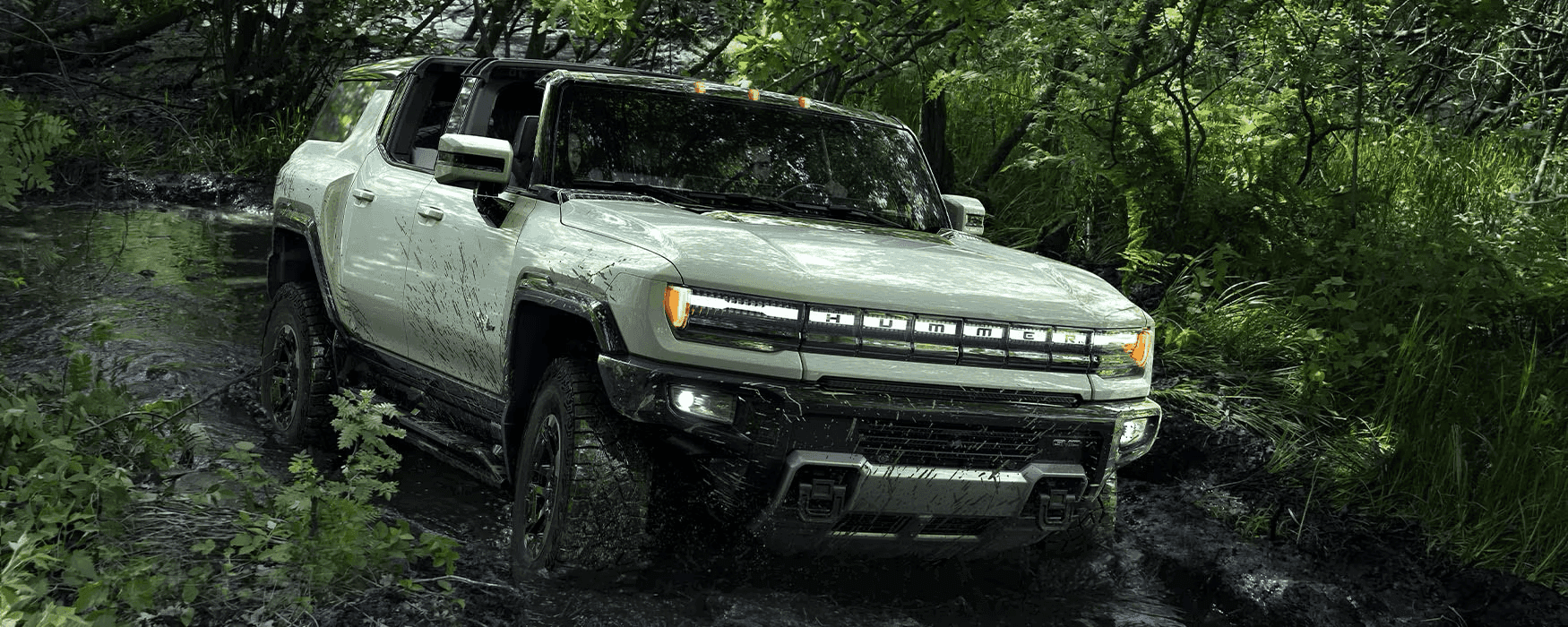 The Hummer EV pickup was designed for adventure and has been made even better with some unique features. One of the most noteworthy features is the CrabWalk, which allows the Hummer EV to roll diagonally by steering all four wheels in the same direction. It also now comes with an adaptive air suspension with 13 inches of travel, up to 16 inches of ground clearance, locking front and rear differentials and full-length skid plates. 
Key off-road features include:
Adaptive Air Suspension with Extract Mode, which raises the vehicle by 6 inches to help clear obstacles.

Four-wheel drive with torque vectoring for precise control on uneven surfaces.

CrabWalk mode allows the vehicle to move diagonally for maximum maneuverability.

Underbody armour to protect critical components during off-road excursions.
Interior Comfort and Technology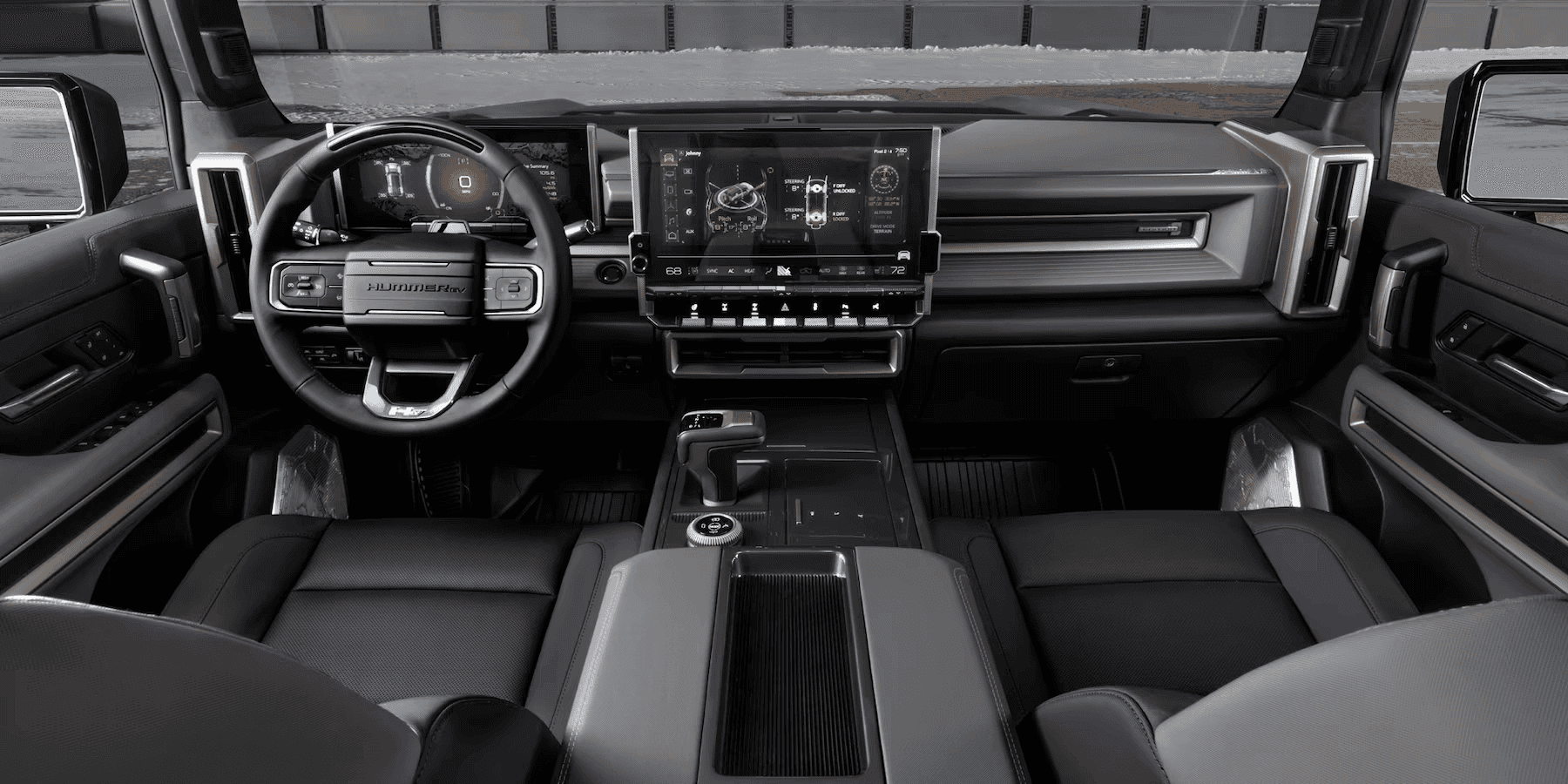 The interior of the Hummer Ev offers a lend of high-tech options and comfort. Inside, you can find a large, sharp, 13.4-inch infotainment display with bright, crisp graphics. GMC actually contracted Epic Games, the designer of the wildly popular game Fortnite, to create the graphics and interface for the 2023 EV. The 2023 Hummer EV also has many connectivity features, such as Apple CarPlay, Android Auto,  Wi-Fi hotspot capabilities, and GM's OnStar telematics system.
Key interior features include:
A 13.4-inch infotainment touchscreen with the latest version of GMC's infotainment system.

Augmented Reality Navigation for a more intuitive and immersive driving experience.

High-quality materials, such as leather upholstery and aluminum accents.

Advanced driver-assistance systems, including Super Cruise for hands-free highway driving.
Range, Charging, and EPA Fuel Economy
The Hummer EV uses a 205 kWH battery pack and gets an impressive 329 miles of driving per charge. The Hummer uses an 800-volt electrical architecture with 350-kilowatt fast-charging capability, which can add 100 miles of range in as quick as 10 minutes. The EPA fuel economy estimates that the Hmmer EV averages 51 MPGe in the city and 43 MPGe on the highway, giving the Hummer EV a 47 MPGe combined. 
Key features include:
A large 205 kWh battery pack that provides an estimated range of over 329 miles on a single charge.

Fast-charging capability, enabling up to 100 miles of range in just 10 minutes.

Regenerative braking to maximize energy efficiency and extend range.

Eco-friendly materials used in the interior, such as recycled plastics and sustainable wood.
Experience the Power and Presence of the 2023 Hummer EV Today
Between their powerful designs and eye-catching aesthetics, Hummers have always been known for commanding the roads. The 2023 Hummer EV pickup is a testament to GMC's commitment to sustainability without compromising power, reliability, and fortitude. This electric pickup leaves little to be desired.
Here at Ron Hodgson Buick GMC, we pride ourselves on ensuring our customers find the best vehicle for their needs and desires. Striking a balance between finding a vehicle that meets your needs but also reflects your desires and personality can be challenging. But that's why our associates are here to make it easier. Our team of professional associates can help you find the right vehicle at the right price. 
To learn more about our selection of 2023 Hummer EVs, contact us or drop into our Edmonton dealership today!